Welcome to our new website!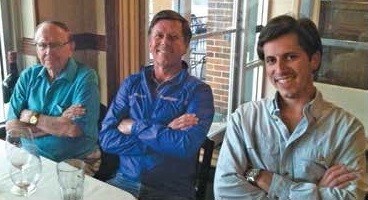 It all started in 1931 when Ernest Patnoe owned and operated the Patnoe Garage, a Standard Oil station and Chevrolet dealership in Norris, South Dakota. From the start, Ernest's focus was on building relationships with his customers using the motto, "We smile when you come, you smile when you leave." Ernest sold Patnoe's Garage in 1943 and became the Town Marshall of White River, South Dakota.
Larry Patnoe, son of Ernest, moved from White River to Rapid City during the 1950s and eventually opened Larry Patnoe's Shop for Men, a men's clothing store in the Alex Johnson Hotel. Larry later sold this business in 1963 and became a partner in Frontier Ford in Rapid City. The partners of Frontier Ford sold the dealership in 1984 and Larry purchased the Auto Clinic, an American Motors dealership in Rapid City founded in 1963. Fifty years later, this business has grown to what is now Liberty Superstores. The principles Ernest established have grown with the business and are now referred to as, "Simple, Worry Free Car Buying" After a successful local banking career and having grown up around his father's car dealerships, Don Patnoe, son of Larry, joined the business fulltime in 1995, marking the 3rd generation of Patnoe family car dealers. The Patnoe family has since actively been growing their dealerships and franchises. Liberty Superstores now includes the new Chrysler, Jeep, Mazda, Mitsubishi and Volkswagen franchises, offering more new vehicle models than any dealer in western South Dakota. Additionally, Liberty offers hundreds of used cars, service departments, parts departments, and a body shop. This growth would not be possible without the dedication of numerous employees who have made a lifelong career with Liberty Superstores.
In 2011, Max Patnoe, Don's son, decided to join the family business full-time after graduating from the University of Colorado with a degree in Finance. Max represents the 4th generation of Patnoe family car dealers.
The Patnoe Family continues to pursue everything automotive including their most recent venture, Dakota Customs. Dakota Customs is a full-service, vehicle customization company specializing in Jeep Wrangler Hemi engine conversions; the only company in the world to successfully program the electronics used for these conversions. Dakota Customs is located in Rapid City and produces products and technology shipped around the globe.  Over the past 50 years, the Patnoe family and the Liberty Superstores organization has been committed to supporting our community. Larry has enjoyed being involved in the baseball programs of Rapid City including coaching and helping establish the Post 22 Bullet Baseball Team. Larry contributed to building the McDonald's Timberline and the Jamie Johnson memorial baseball fields. He has also been involved in the annual School Supply Drive since its inception. The family is actively involved in the Rapid City Chamber of Commerce, with Don serving as a past Board Member and inaugural member of Leadership Rapid City, while Max was a Leadership Rapid City graduate in 2012.  Don is the former President and Board Member of the Black Hills Area Council of Boy Scouts and Max earned his Eagle Scout rank in 2007. In 2009, Max rode his bicycle coast-to-coast across the country to raise money and awareness for people with disabilities through Push America, an organization he still supports today.  Don is also a past President and Board Member of the YMCA, a past Honorary Commander at Ellsworth Air Force Base, and past Board Member with the South Dakota Auto Dealers Association.  Additionally, the family contributes to local organizations such as; Rapid City's Main Street Square, Rapid City Club for Boys, American Legion Post 22 Baseball, American Legion Post 320 Baseball, Rapid City Public School Foundation, United Way of the Black Hills, Mount Rushmore Society, Black Hills Area Council of Boy Scouts, Rapid City Regional Hospital Foundation, Habitat for Humanity and Youth and Family Services.  The Patnoe family continues to look for new opportunities, whether growing their business or helping to improve our community.
They would like to thank Rapid City for their first 50 years and look forward to serving the Black Hills for many more.